Jason Silvestri SERVICES
Supporting Multiple Devices & Layouts (Out of the Box!)
---
I develop software, mobile experiences and web applications for some of the best Startups & Fortune 500 companies in the World!
With almost 2 decades of experience in total, I have over 40 different web technologies, IDEs, Design Patterns and Graphic/video designers under my belt. Still, I only tend to preach About my primary, current, strengths, which range from Asp.NET 2.0 through Core 6, HTML5, CSS, C#, WebForms, Razor & MVC, Bootstrap, Entity Framework, SQL Server, jQuery & even some AngularJS, to multi-threaded applications, SasS, Ajax, JSON, Web Services & Web API.
Most importantly, I would not have been able to acquire said skills if it wasn't for co-developing and collaborating with team members across the board on a variety of projects throughout the years.
No matter what technology you are using on the client side and/or server side, now-a-days, it's absolutely imperative to develop solutions that are compatible across most smart phones, tablets, desktop computers and even smart TVs. All services I render - web or mobile - are backed by 100% responsive web design (mobile friendly). In fact, the website you are viewing right now is fully responsive, and tailored to the latest smartphone, tablet, desktop computer and smart TV experiences. View www.jSilvestri.com on any device to see for yourself!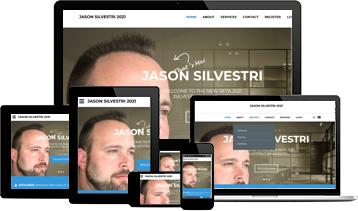 Primary Technology Support
---
I support over 40+ web technologies, IDEs and Graphic/video designers. Here are several.
Adobe (Photoshop)
HTML, XHTML & HTML5
CSS 1-3
Javascript
Bootstrap 1 - 4
AngularJS 1 - 2
JSON
Asp.NET 2.0 - Asp.NET Core 3.1.4 (Evaluating Asp.NET Core 6)
SQL Server
Entity Framework
Web API
ADO.NET
Web Services
Visual Studio
Adobe After Effects
C# WebForms & MVC
LINQ
RestFUL
JQuery
Asp.NET AJAX
Expression Web
---
Supporting Services
---
In addition to complex technology Client-Side, Server-Side & Database development, I have several supporting services that go hand-in-hand with most web and mobile developments.
SEO ready
Clean design
Modern, flexible, multi purpose
one-click PROJECT PUBLISHING
PLM Consulting
100% responsive Web DESIGN
free ONLINE CONTACT support
Broad Social Media Campaigns
Parallax Development
Cloud Computing
Project Roadmapping
Single & Multi Page Applications
Server-Side Development
Client-Side Development
Legacy System Restoration
---
Past Technology Support
---
Here are some technologies I spent one or more years on eariler in my career that I can still speak to; respectfully.
Adobe Audition
Adobe Dreamweaver
Adobe Edge
Adobe Flash
Adobe Illustrator
jQuery Mobile
WCF
WPF
Oracle
Java
Phone Gap
XAML
PHP
Perl
VB.NET
SharePoint
Silverlight
MySQL
---
Recent Discovery Technology
---
Here are some technologies I am currently exploring.
Asp.NET Core 6 & Blazor (2022)
Business Tier Skill Matrix
Some clients and/or employers see the technologies and supporting services and often wonder how much time I spend across business tiers. Although my time on tier varies with each project, my current time on each main tier is as follows (given my 2021 multi-purpose web application is my sole venture in development until my next project starts):
The 2022 Jason Silvestri Website Comes With A 100% Guarantee! Act NOW!